Hello friends, fans, family, and folkies!

I hope you are doing great!  Late summer cicada serenades and the occasional geese flyover are my favorite tunes this month.  They are the perfect background my two upcoming outdoor concerts:

Fri 9/11: Hurricane Run w/Grace Adele for all of my Scioto and Adams County folks!
Sat 9/12: 1PM at the Pawpaw Festival!

August was a busy month between the studio and an inspiring week at Rocky Mountain Song School in Lyons, CO.  I took classes in Directed Writing, Harmony, Melody, Rhythm, and Business with amazing teachers including Peter Yarrow of Peter, Paul, and Mary.  There were 180 enthusiastic songwriters all camped out together.  The whole place pulsated with love and folky jams.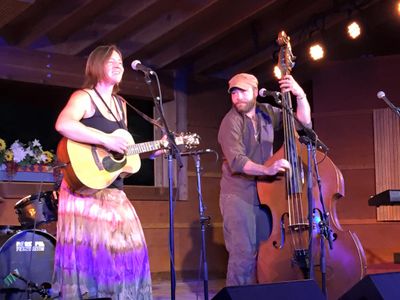 with Joe Stevens onstage at Song School. photo by Jill Brzezicki.
This past weekend I got a stellar line up of guest musicians to lay down some magic out at Peach Fork Studio. Terry Douds on bass, Bill Rawlins on percussion, and John Borchard on lead guitar and pedal steel.  You're gonna love it!
I have one more date next week to record some vocals in the studio then it's on to mixing, mastering, and replication.  I'm so thankful to have the funding and support behind this project from all of my Kickstarter sponsors!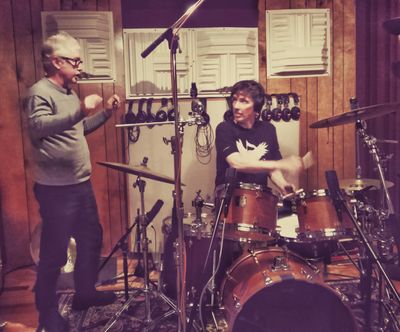 Bernie Nau and Bill Rawlins speaking drum language.

Thanks for staying tuned in.
Yours truly, 
Megan Bee

PS.  Thanks for reading all the way to the end.  That's where you'll find the turn off to Peach Fork Studio...