My journey through New England was part family vacation, part farm work, part music tour, part hiking trip, part... well there were lots of parts to it.  I got to see some family and friends I hadn't seen in a while, camp in some picturesque places, and eat more fresh picked fruit then I had all year.  
The trip started with a gig at Billsboro Winery in Geneva, NY...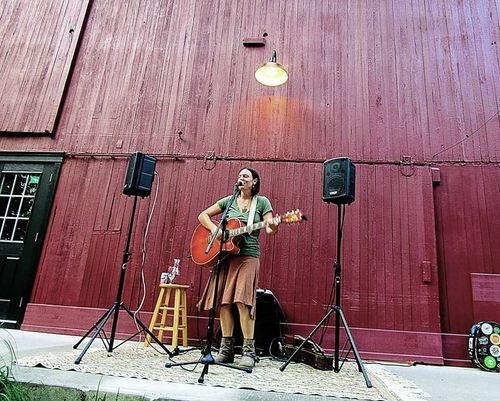 The Finger Lakes Region is stunning.  My parents came on the first leg of the trip to visit with my cousin Betsy and her family there.  Her and her husband both work for Cornell University.  They took us through the lab and fields where they study different fruit varieties.  We ate so many raspberries and cherries that day..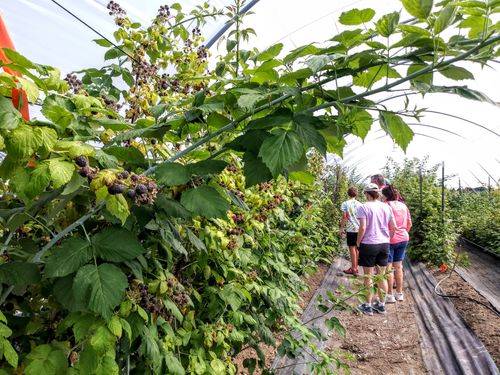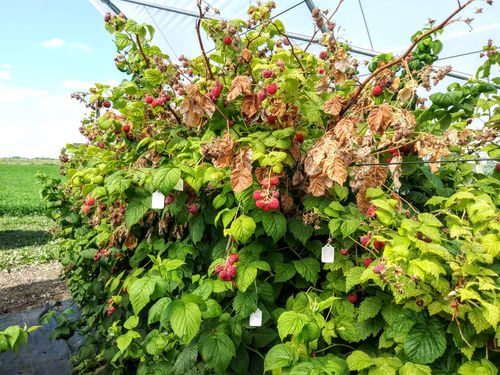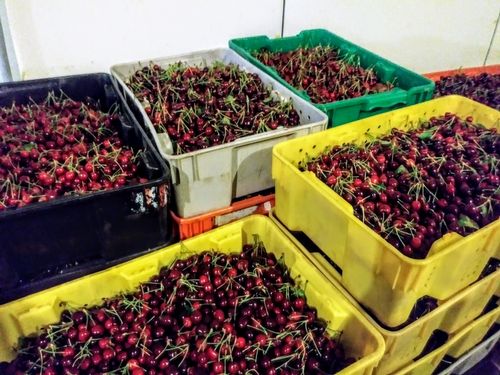 Geneva, NY . Seneca Lake...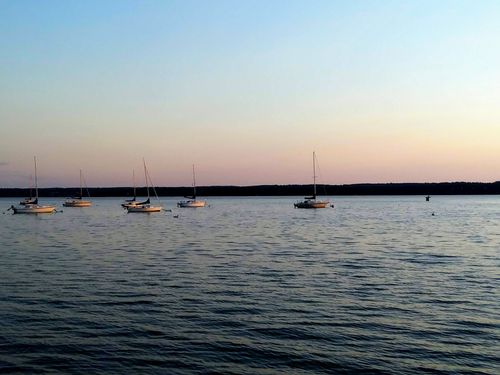 Then my parents and I caravanned down to Binghamton, NY to visit more family.  On the way we stopped at Taughannock Falls State Park...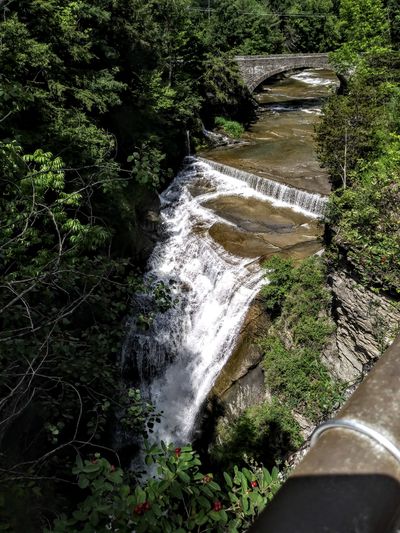 Then I went to visit my friend Jeremy who use to work at Camp Oty' Okwa.  Him and his dog live on a farm in West Winfield, NY...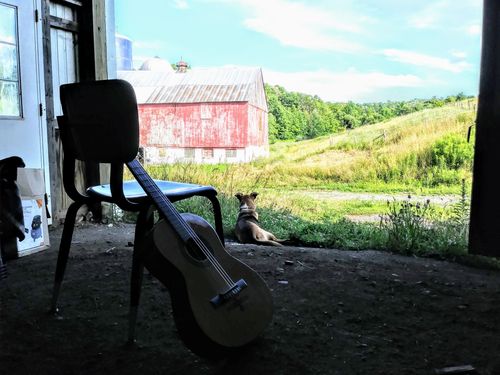 One day I was sitting in their yard playing guitar.  The neighbor's cows came across the field and up to the fence when they heard me playing.  I turned around at one point and there were four of them at the fence just staring at me...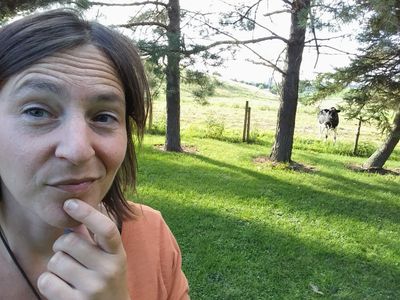 My friend Bruce Dalzell says "They know things."  Look into those eyes.  There's a lot going in a cow.  What gentle and sweet creatures...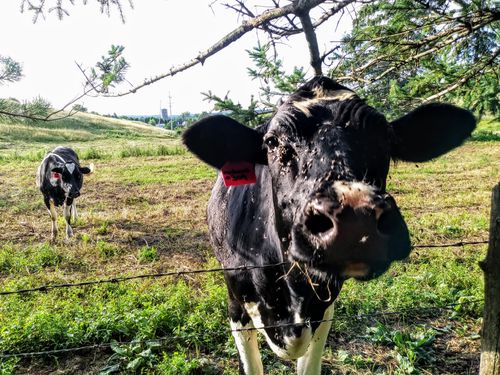 Jeremy's aunt had just bought an island up there.  Yes, there are so many lakes and ponds in the northeast that if you look around enough you could buy yourself an island.  We took the row boat over with a guitar and some provisions and had ourselves a campout...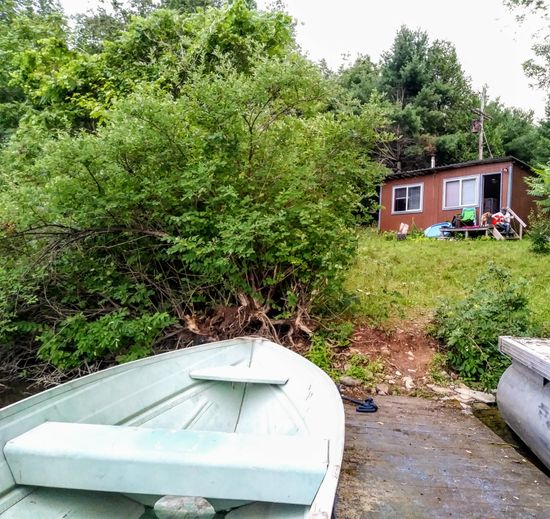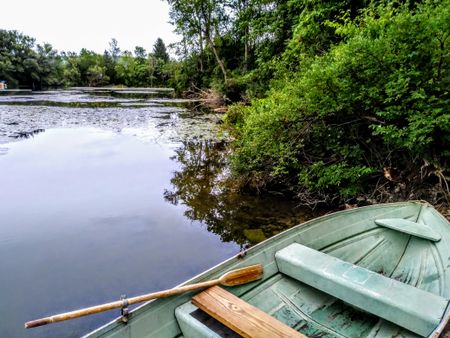 Then I headed out to the Adirondack Mountains for a couple nights.  This is one of the mountains I hiked.  When I got up here that rock was just humming with life and radiating soaked up sun.  There was definitely a sense of calm in this region...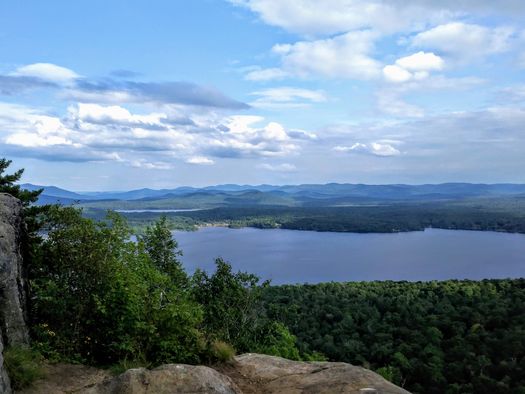 Then over in Burlington, VT I played a little venue uptown called Radio Bean.  Earlier that day I was looking at the map and discovered the Birds of Vermont Museum.  It tickled my curiosity so I had to go.  Wood carver and bird-lover Bob Spear (1920-2014) spent a lifetime carving the birds of Vermont.  His goal was to carve every bird that had ever been spotted in the state.  There are over 500 bird carvings in this museum.  The displays show male and female specimens in handcrafted habitats.  What a legacy.  I was really inspired by his love of nature and art and his commitment to his work...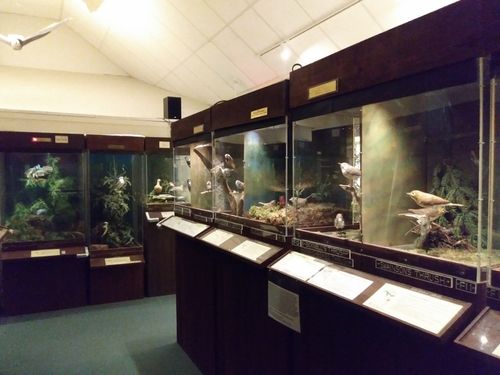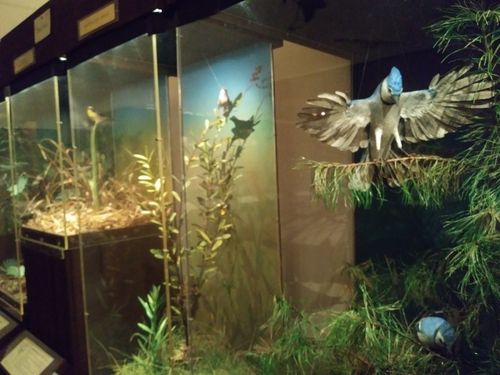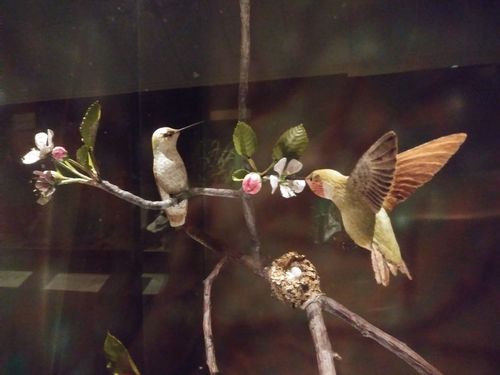 After a few nights of solo camping I was excited to pull into Rumford, ME where there were familiar faces and other musicians waiting.  My friend Pete hosts a big blueberry gathering every year called "Pete's Picking and Picking Party."  I had a shady camp spot behind the bus where acoustic jamming occurred when it was too rainy to jam around the fire...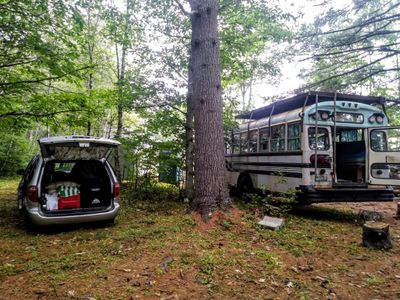 There was much picking and picking.  All the campers lended their hand at helping pick this year's crop of blueberries.  At night bands would entertain folks with their picking.  And later at night many guitars would appear around the campfire as the picking became more organic, spontaneous, and intimate...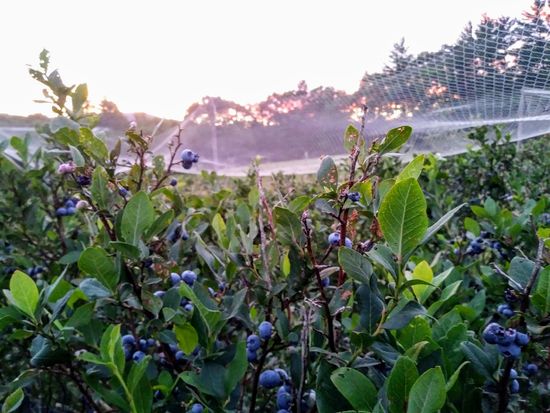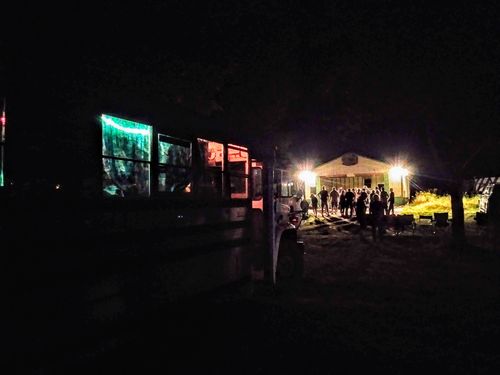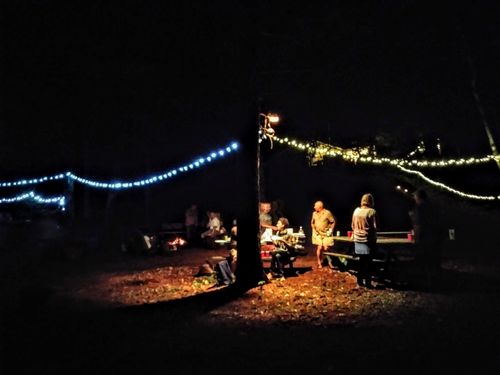 From Rumford, ME you don't have to go far to find a mountain to climb, trail to hike, or lake to jump in...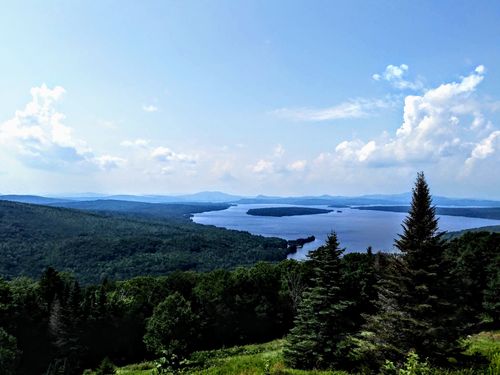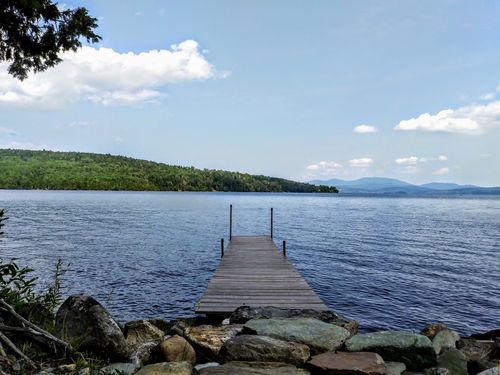 Here's the peak of White Cap Mountain just a couple miles from Pete's house.  It's a lovely hike with the reward of a great view and wild blueberries if you make it to the top...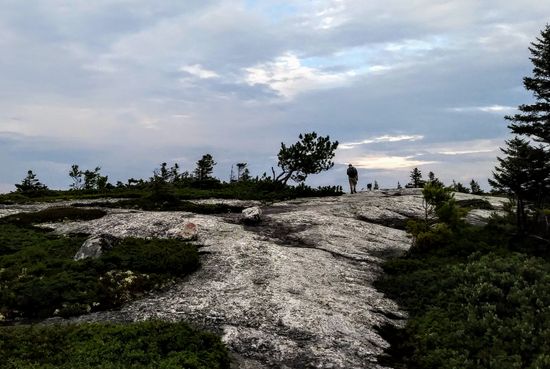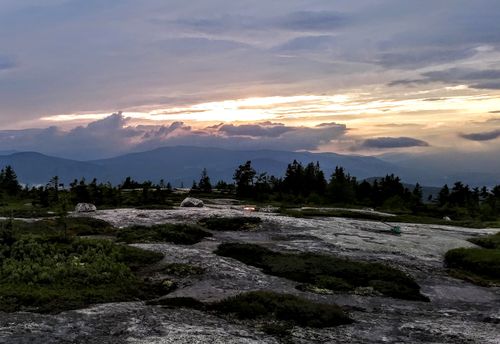 From Maine I took a side trip down to New Hampshire.  I stopped at Franconia Notch State Park.  This is where the Old Man of the Mountain was.  This rock face silhouette is a famous New Hampshire icon.  It made me think about how we as humans try to personify things like mountains or animals.  We see faces in things.  
People have been trying to hold the face together for decades with chains, steel rods, and cement against the elements of weathering.  Despite their efforts, the face crumbled off in 2003.  Geology just seems to have a way of letting go and giving in to gravity with time.  We as humans seem to have a hard time letting go of things and moving on.   
There was a big push to recreate the face of the old man with some kind of replica.  Instead the Friends of the Old Man of the Mountain created this Profile Park where these small faces can be lined up with the sheer cliff and you can see the Old Man once again...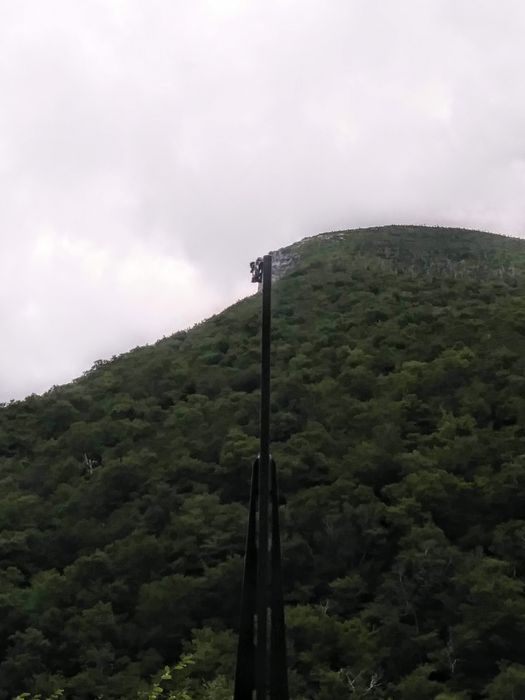 Water and wind and freezing will just keep changing the environment.  In less than one hundred years there will be no one left living who ever saw the real rock face silhouette.  It made me think about letting go...  just flowing with it...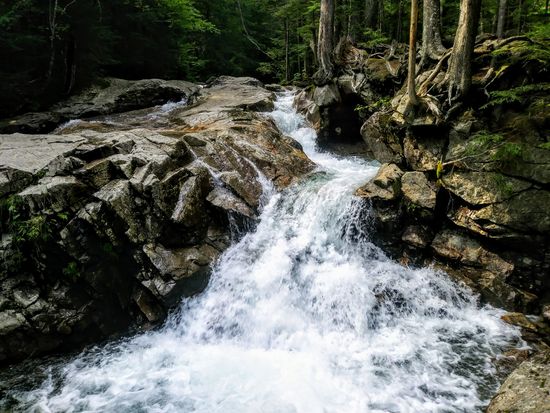 Down in Claremont, NH I played a gig at The Taverne on the Square...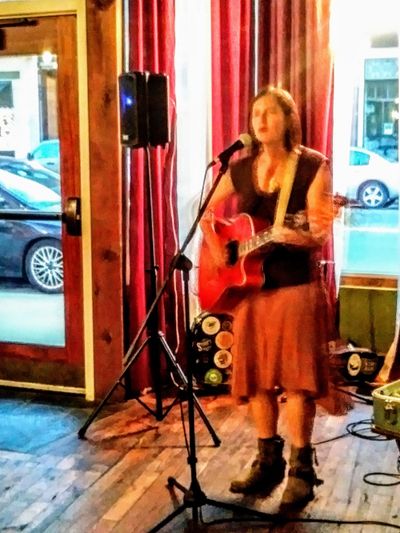 I stayed with some friends from Athens, OH that live there now.  Their daughters helped me uncover some dinosaurs at the Vermont Institute of Natural Science...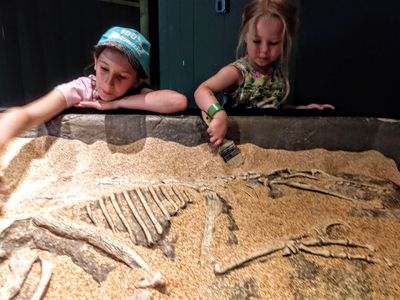 Then I made it back to Maine in time for this sunset...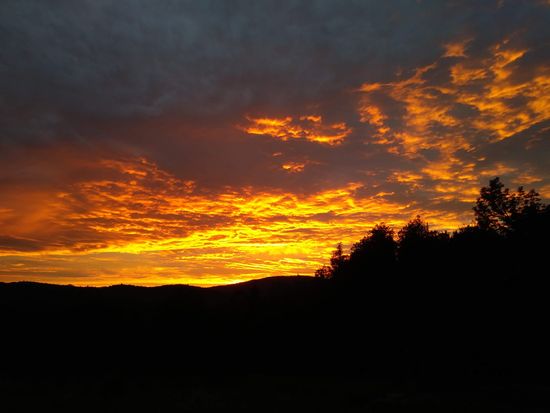 Back in Rumford, ME my friends hosted a lovely house concert in their living room.  These are one of my favorite places to play...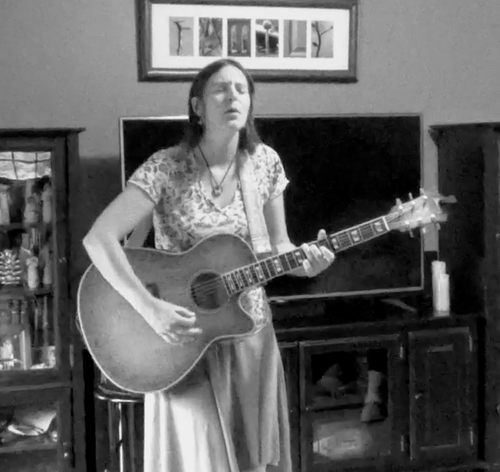 How can you not have fun looking at this crowd!?!  I told them I was going to put this picture in the blog.  You're in! 
Then it was a whirlwind of travel.  My last gig of the tour was in Old Lyme, CT where Roger Tory Peterson of naturalist fame is from.  I spent time before my gig out bird watching in this wildlife area.  There were more osprey nesting platforms there then anywhere I'd ever been...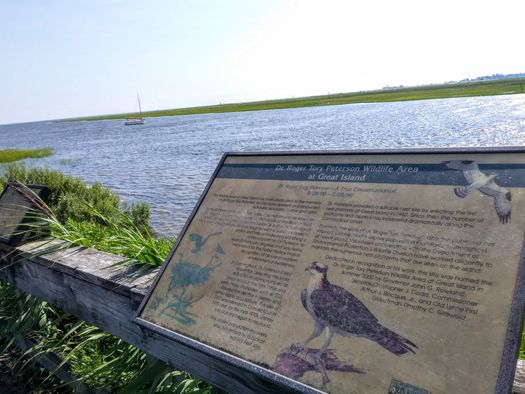 That was it!  It was lots of driving, lots of blueberries, lots of music.  Occasional moments of homesickness were contrasted with the pure beauty of mountains, clean lakes, and the welcome love of friends.  Thanks to everyone along the way!  Thanks for reading the blog and staying connected.  Until next time...