I spent this past month touring through California.  Originally the trip was planned as a full tour with another songwriter, but they dropped off due to personal issues.  I was disappointed, concerned, and left with a big change in logistics of going it alone.  But, I had a plane ticket, a couple of booked shows, and many loving friends in the west.  The trip was a process of letting go of expectations and opening myself up to what might come from the beauty of the unknown and the unplanned.  Here is an overview in 3 parts...


Part 1: The Ranch

I flew into LA on February 12th.  I continue to find a home and landing place at The Ranch in Lancaster, CA.  My friend Timbo owns this special place up in the Antelope Valley.  He sells firewood...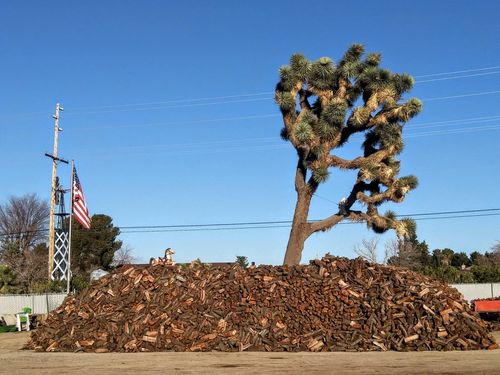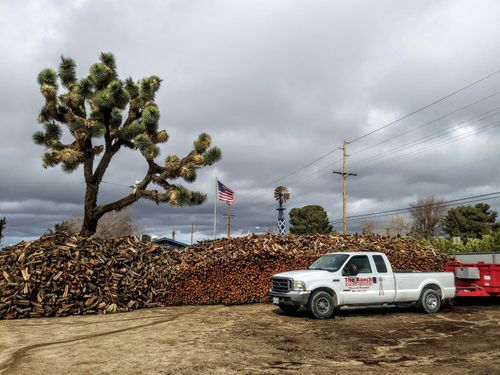 There is a revolving cast of characters who come through The Ranch for a day, a week, or a couple of months.  We all pitch in to help sell, stack, and throw the firewood.  There is a quiet camaraderie when a wood truck arrives at 7AM.  We're in the kitchen sipping tea and coffee as the sun is rising and the semi can be heard coming down 20th avenue.  We climb up on top of the truck where we can watch the sunrise, look out at the sepia toned chalky greens of the desert, and see how far the snow has come down the mountains overnight.  Then we begin to throw all of the wood off of the truck with the rhythmic sound of wood hitting wood.  It's pretty meditative...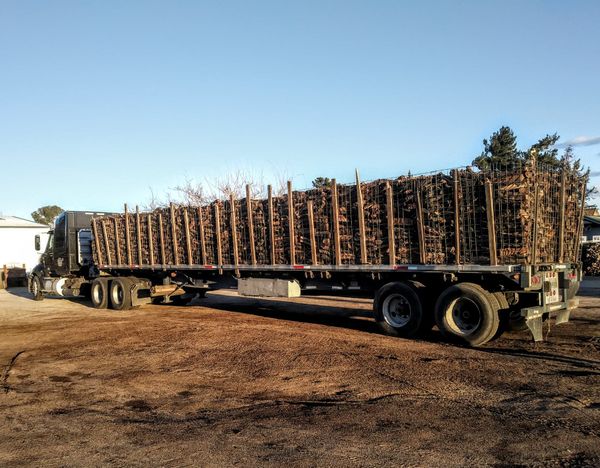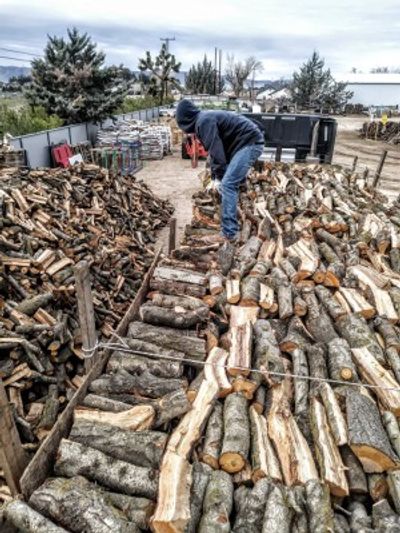 The tag line of The Ranch is "Wood with Personality".  The outhouse is just one example of  the unique "personality" of this place...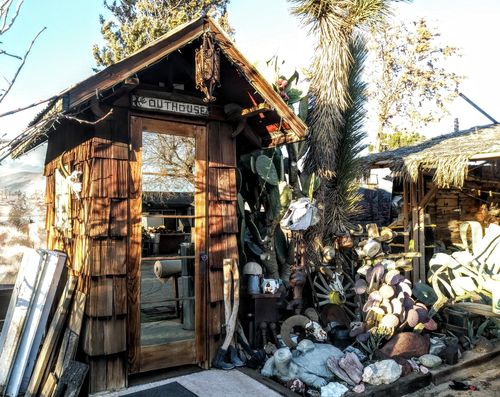 At an elevation of around 2,350 feet above sea level, the Antelope Valley is considered high desert.  The landscape is dominated by Joshua Trees, Creosote Bushes, and Rabbitbrush.  Ravens and Jackrabbits have a run of the place...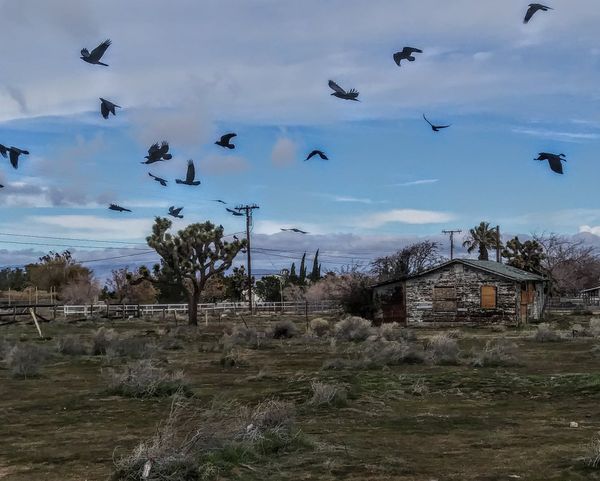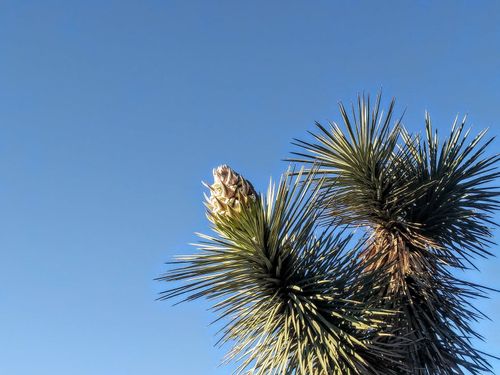 I spent the first part of my time here nursing a head cold.  Sometimes your body just tells you when you need to slow down.  I'd throw some wood, hike in the desert, cook up lavish dinners with other ranch-hands, and nestle in by the wood stove.  I felt more relaxed then I had in a while.  I had to skip out on original plans to do some wilderness camping.  Again, letting go of expectations.  I was thankful for the coziness this place...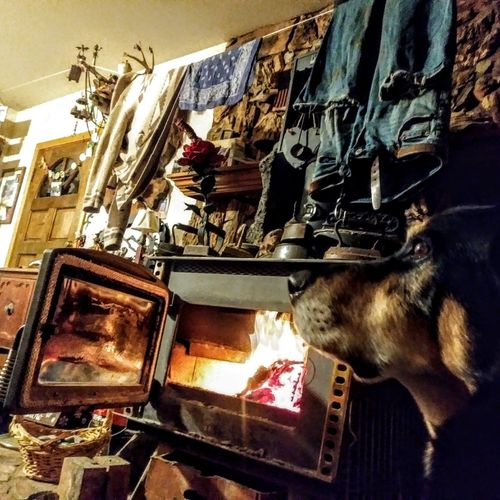 I did recover from my cold and squeezed in a few local shows.  The highlight was a house concert at Nay and Julie's.  They are both artists and their house is a living museum of their evolving creativity.  The evening was a beautiful celebration of friends, food, art, and music...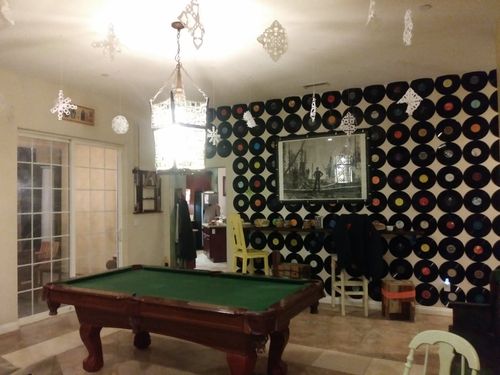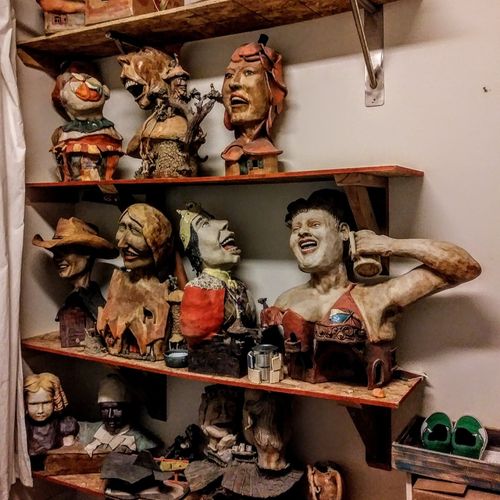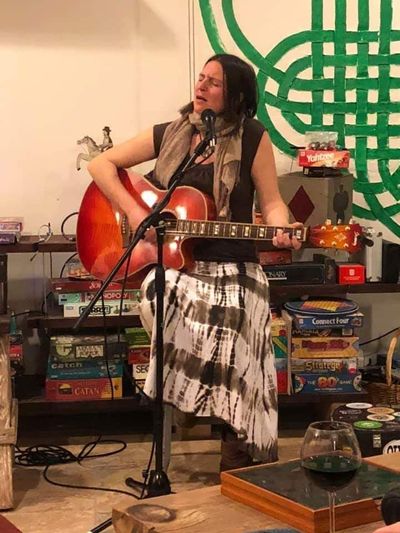 The Antelope Valley is famous for it's poppy preserve.  Before I left the poppies were just beginning to show themselves...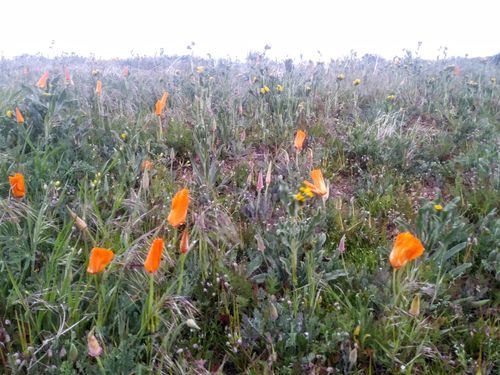 Part 2: The Lincoln Town Car Sessions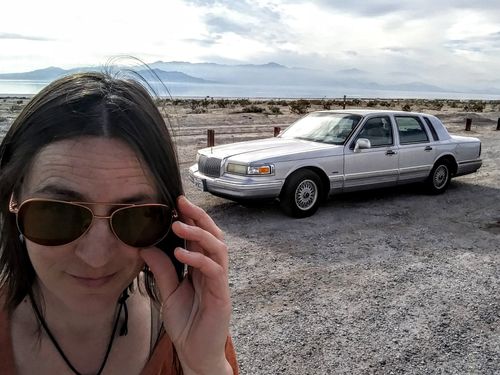 With deep gratitude to my friend Timbo, I borrowed his 1995 Lincoln Town Car to execute the second part of my tour.  I put some firewood in the trunk and headed down south to the stark region of the Salton Sea where I landed in Slab City for 5 days.  There are a plethora of opinions and experiences to be had in Slab City.  My experience has always been of a community that has time and space to make art, music, and conversation.
 
They call it "The Last Free Place."  It's an old abandoned army base squatted by a myriad of artists, snowbirds, homeless, and travellers.  There are no grid-services and the summers get brutally hot.  It's rough, real, and beautiful in an edgy kind of way.  This year my friend John loaded his truck with all of his art supplies (blacksmith forge, pottery wheel and kiln, drill press, painting easel, etc.) and built an art camp.  I parked the Lincoln and set up a tent in the corner...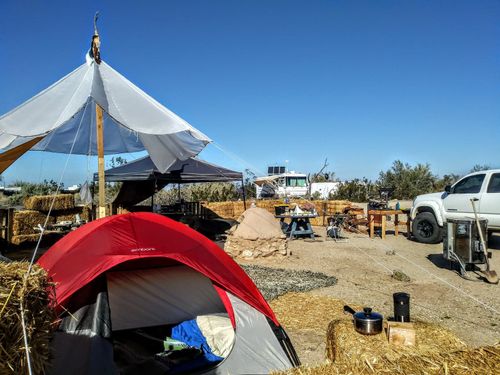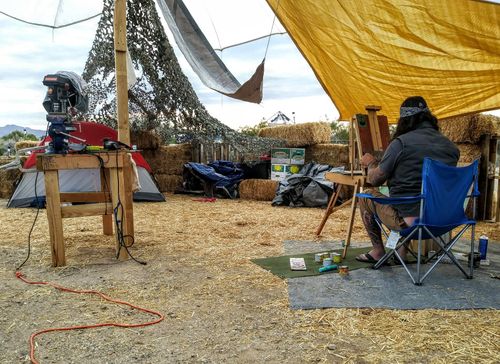 John was doing some sign painting and also teaching a knife-making workshop while I was there.  In the background here there is a mural he painted a few years ago on the side of our friend David's trailer...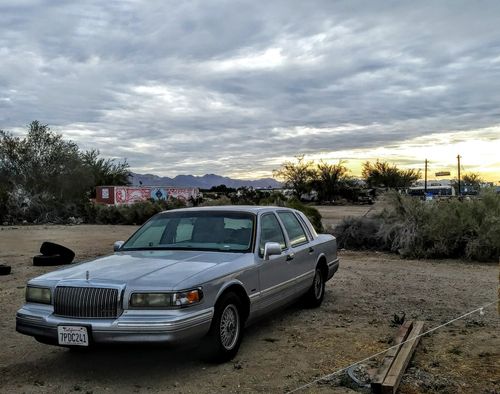 I played music every day in Slab City from breakfast at Bubba's, the VIPer Lounge, the Oasis Club, and some sweet campfires in John's art camp...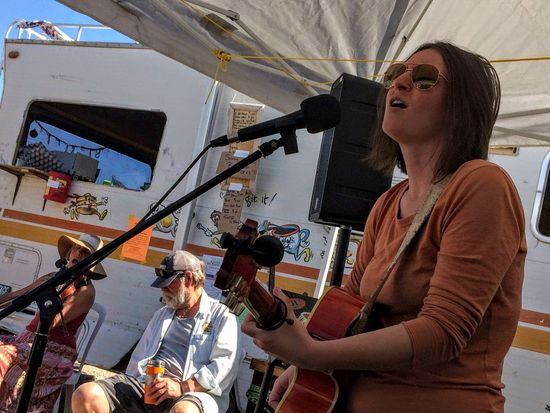 Breakfast at Bubba's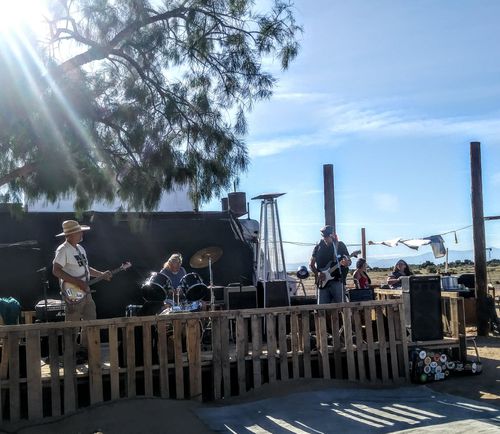 VIPer Lounge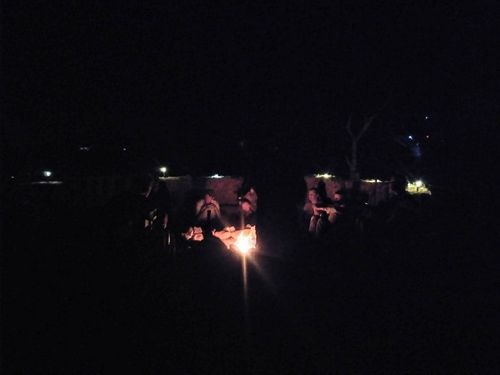 Campfire at Art Camp



The low desert was really blooming this year.  Walking the back trails and washes of Slab City left your shoes speckled with yellow pollen.  Here's a unique view of Slab City's most popular art instillation Salvation Mountain as seen on a wildflower walk...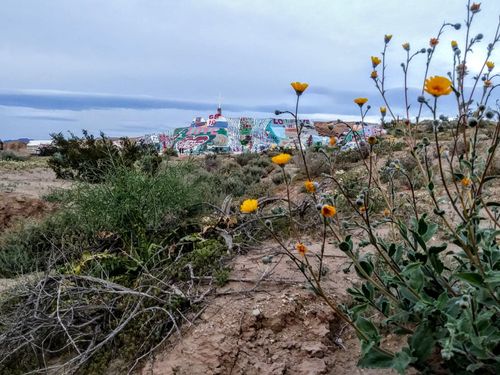 This visit to Slab City was marked with reconnecting with old friends, making some new friends, slowing down to smell the wildflowers and have long roving converstions, and playing music in that raw spontaneous space around a campfire.  From Slab City I headed through the south entrance of Joshua Tree National Park.  The area south of the park was full of purple lupine...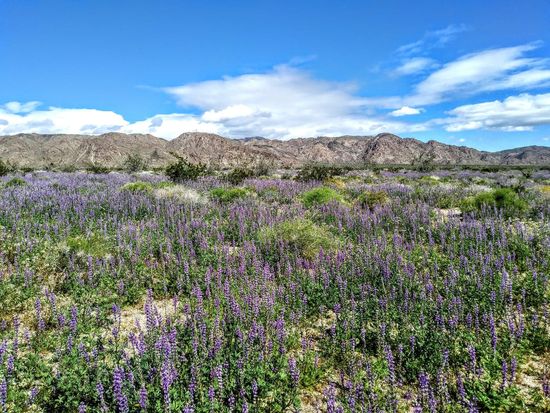 Lupine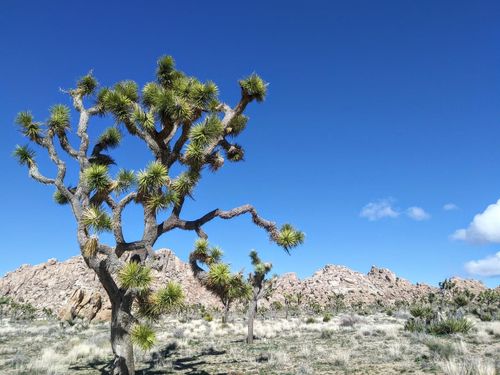 Joshua Trees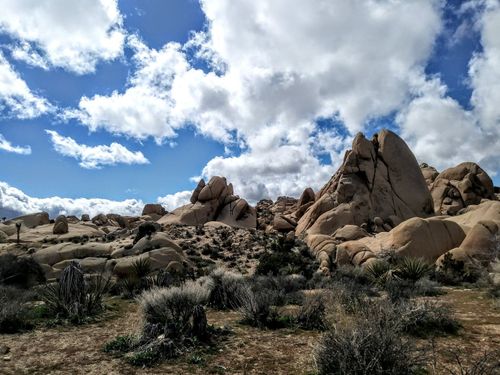 Classic Joshua Tree Rocks

In the town of Joshua Tree I played a show to a packed saloon.  The place was so packed that I invited people who didn't have a seat to sit on the stage.  The whole evening had a very summer camp vibe of excitement and a little rambunctiousness.  I had all of my new stage friends get up and sing the last song with me.  Fun...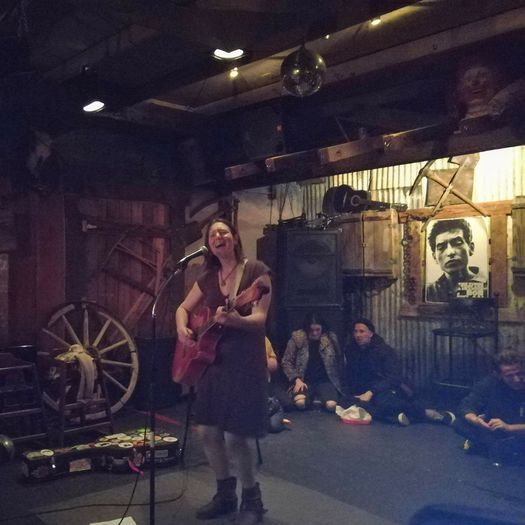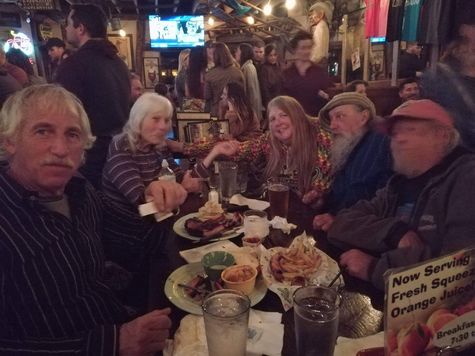 Desert Friends at Joshua Tree Saloon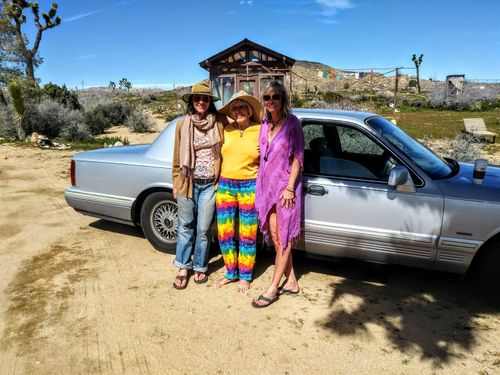 My gracious and beautiful host Bead Louise with me and Margarita Nancy in Pioneertown, CA.



The low desert region of California is famous for their date production.  About 13 years ago when I was first traveling and working on organic farms I volunteered with The Date People in Niland, CA.  We continue to stay connected and have an ongoing trade of music for dates.  They continue to grow the best I've ever had...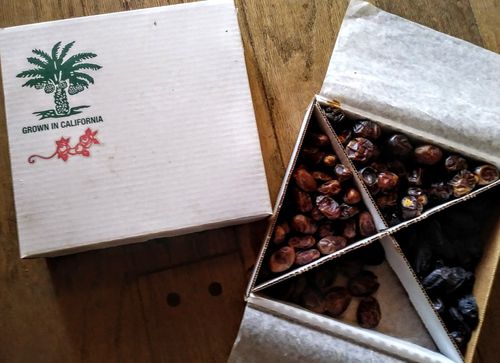 Part 3: The Bay


I returned the Lincoln to it's home and hopped a train to Emeryville, CA.  I believe the train is still a romantic way to travel.  While the airport makes you strip down and sit down, the train station encourages relaxation and leg stretching.  On a plane folks are putting on their headphones or pulling out their laptops.  On the train folks are still talking to each other.  They are sharing tables in the dining car and playing card games with strangers.  The inflight movie is to watch the scenery passing out the window.  I went right up the middle of the state on the San Joaquins train through vineyards, orchards, and Central Valley towns...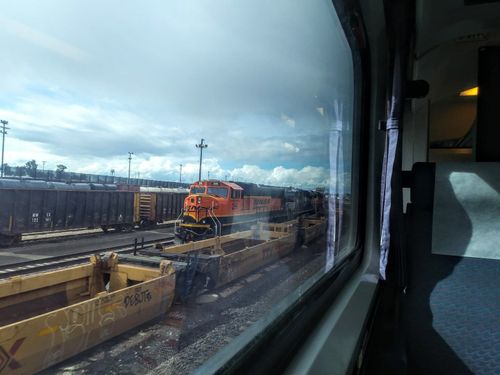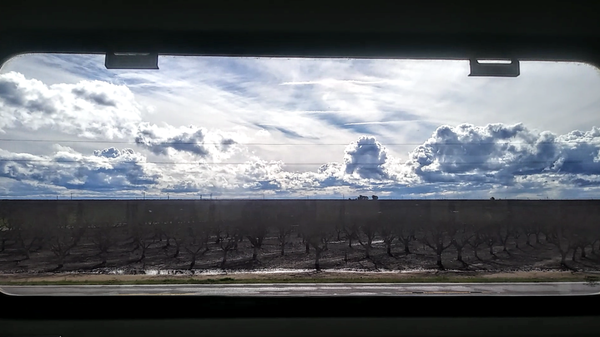 From the train my friend whisked me away to an Ecstatic Dance in Oakland, CA on a Wednesday evening.  The crowded busyness of cities is always  a little uncomfortable for me.  People I love live there though so I'm compelled to go.  So while I'm there I try to appreciate the unique opportunities and environment.  We don't have big dances like this in rural Ohio on a Wednesday night...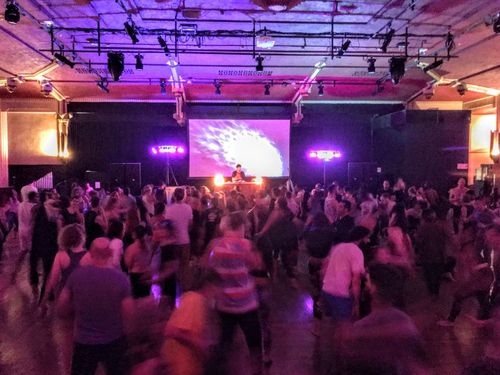 My friend Emma runs an outdoor preschool in the east bay.  I went in one day while they were at the Berkeley Marina and played music with the kids.  All of the kids had great suggestions for what to sing about and how to change the words...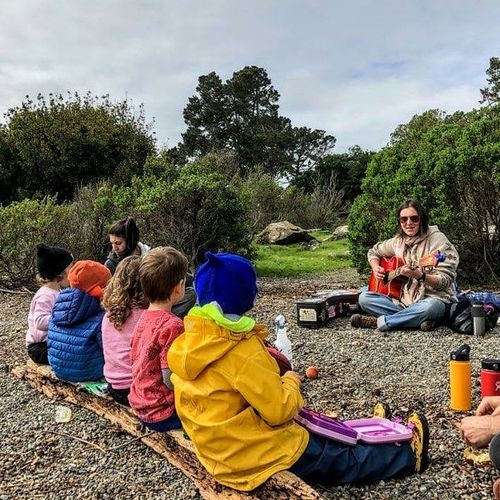 Emerging Sprouts Forest School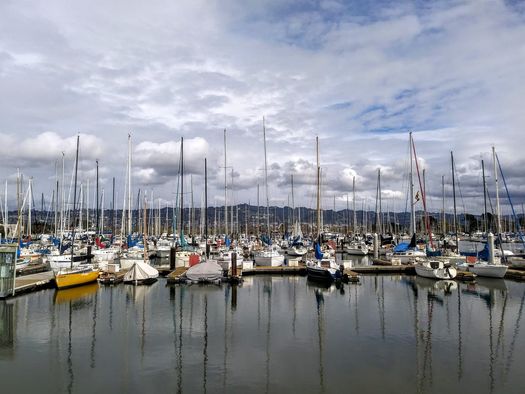 Berkeley Marina
I have cousins that live on the south end of San Fransisco so I took public transportation down to see them one day.  Every time I travel through the city I get just a little more comfortable and familiar with the transit system...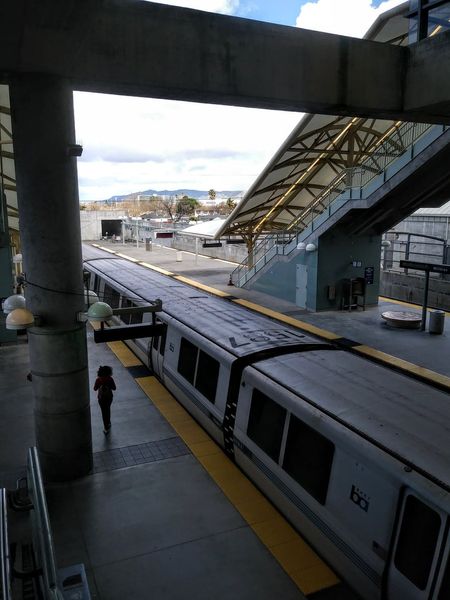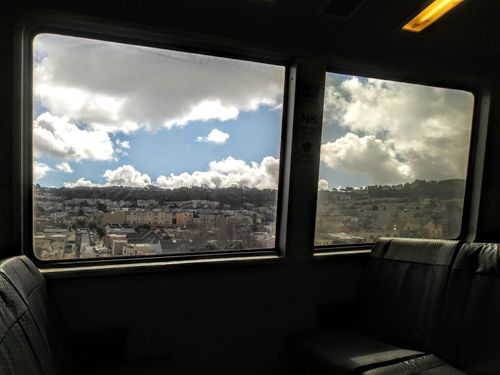 Towards the end of my stay my friends hosted a lovely intimate house concert complete with a big potluck dinner and some silly songs afterwards...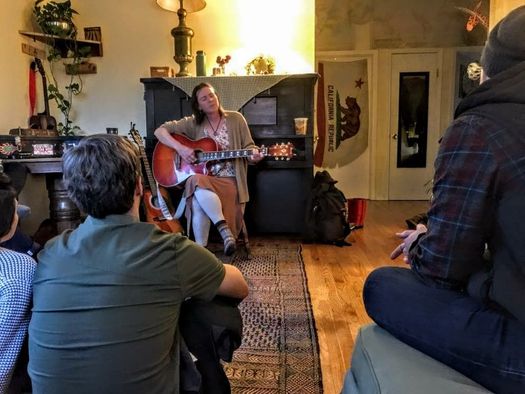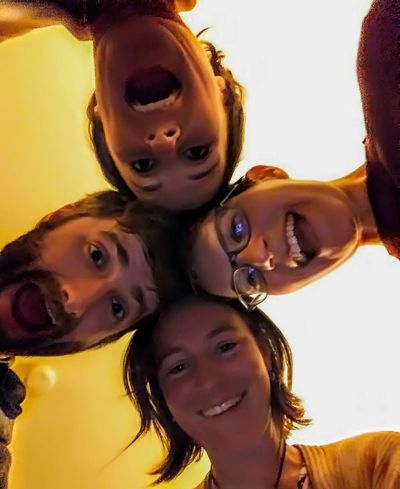 On my last day my friend Steve took me for a picnic up at Mount Diablo State Park where you can see the Sierras and the bay far away and below you...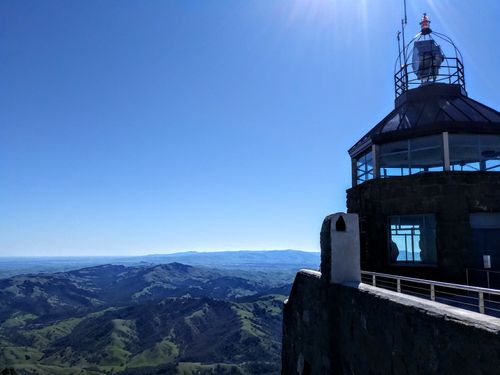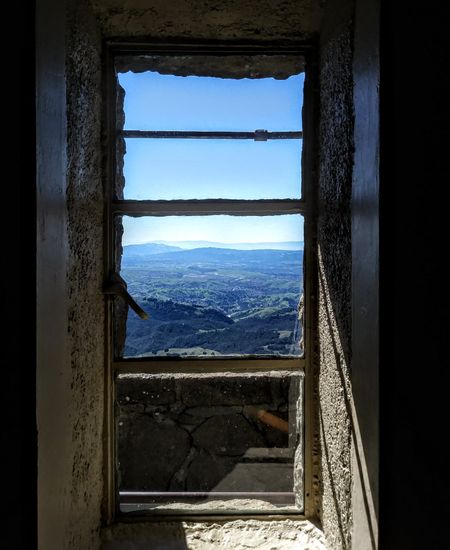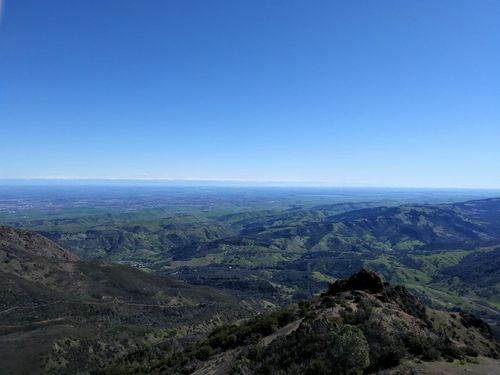 As the sun rose on March 12th I said goodbye to my bay friends and took off from the Oakland Airport...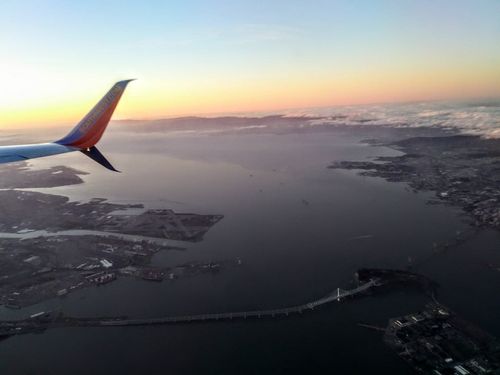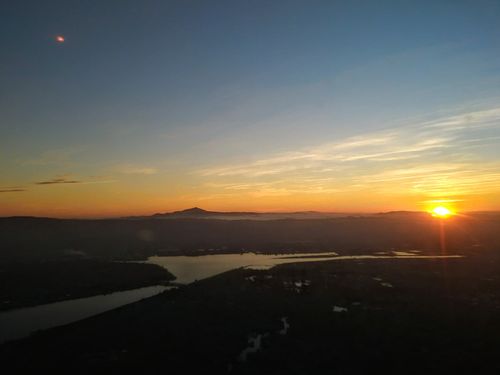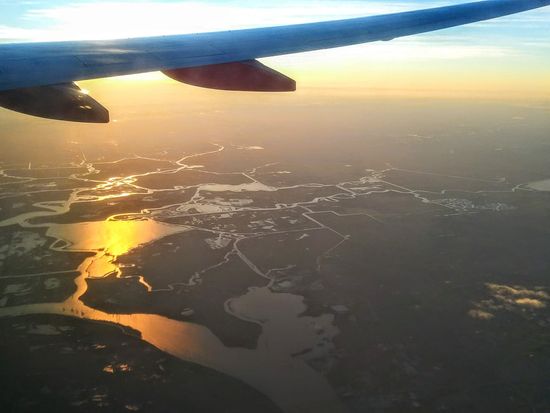 Thank you to all of the folks along my journey who hosted me, fed me, shared time and conversation, booked me, listened, and welcomed me.  To fall into the unknown is a trust of faith.  A friend of mine likes to say, "Jump and the net will appear."  I trust you all.  Thanks for being my net, for affirming my creativity, and encouraging my journey.  Now I'm back in Ohio refreshed and inspired.  The spring peepers are beginning their chorus and we are just starting to pull on the edge of a new season of growth.